Yes you can!
Oxford TRIZ eLearning offers a whole new and convenient way to learn, revise and hone essential problem-solving skills and genius thinking tools. With eLearning you can learn at your own pace and at times that suit you, efficiently enabling you to pick up and practice the principal TRIZ tools. This logical extension and addition our to all online training and problem solving will help everyone get up to speed fast to tackle new challenges and tough problems. But how exactly does it work?
Carry on reading to learn:
How does it work? Getting access
Once you have purchased our first course, Oxford TRIZ Fundamentals you will receive an email from Oxford TRIZ Academy granting you access to Oxford TRIZ Fundamentals eLearning. This email will ask you to sign-up or log in (depending on if you have attended an Oxford TRIZ Live) and get started.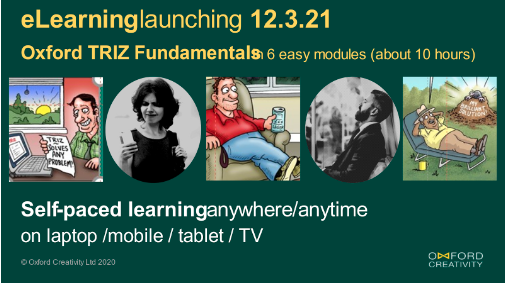 Once you have logged in you will have the option to start Oxford TRIZ Fundamentals or connect with the TRIZ community. Oxford Creativity's eLearning is compatible for most devices, meaning it works for anyone, anywhere whether on your phone, your tablet or computer, it can also be taken via the Kajabi app. It doesn't matter if you are new to TRIZ, want to boost your competence and confidence or simply be reminded of the great power of this unique toolkit – you can now learn one tool at a time, tackle the assignments and move along fast on your TRIZ journey.
What does it include?
Oxford TRIZ Fundamentals consists of six modules with 22 video lessons and 11 practical assignments which have been designed for convenient and effective learning. It also includes The Contradiction Matrix and the Oxford Creativity Guide to Solving Contradictions, to download and keep forever.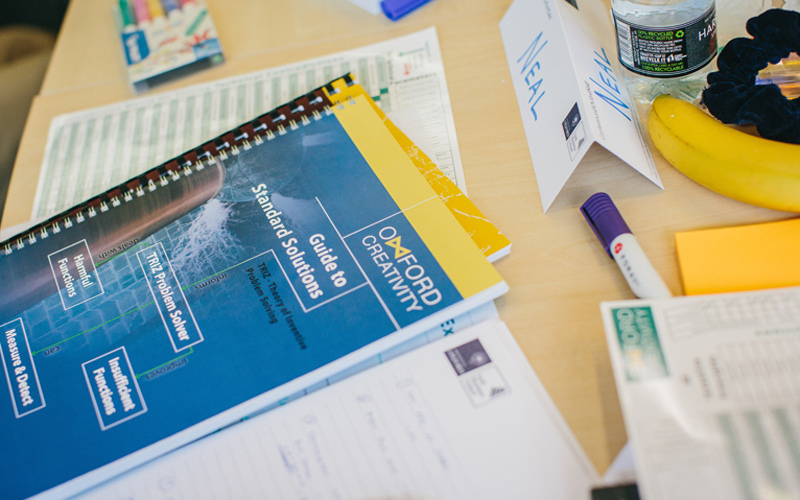 When you purchase Oxford TRIZ Fundamentals you are given access to all six modules each consisting of a mixture of short video lessons (from 3-15 minutes long), TRIZ assignments, with editable worksheets and example answers from our TRIZ experts.
This fast-track introduction to Oxford TRIZ is the first in our eLearning series; the next one to be launched will cover Oxford TRIZ Function Mapping, Standard Solutions, Trimming.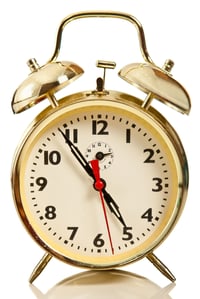 How long will it take?
There are video tutorials which vary from short (just a few minutes) to more substantial lasting up to 15 minutes long. Each module has an assignment for you to practice each tool and embed and test your learning. The assignments should take about 30 minutes, but obviously you can set your own pace and spend as much or as little time as you would like. On completion you can compare your output with the model answers available from our Oxford TRIZ experts.
In live learning and our face-to-face workshops, we stress there are no RIGHT answers as there are many possible, good solutions to almost every problem. (Only puzzles and murder mysteries have ONE solution). If your answers are very different from the model answer this is probably a good thing – but please contact us if you need more clarification.
In addition to the video tutorials and the assignments there are extra case study /background videos for you to explore topics more. They are an optional extra to the main teaching and we hope you find them helpful.
No need to rush - Oxford TRIZ eLearning was designed to be taken one module at a time. Each Oxford TRIZ tool is straightforward to understand and apply but they all take us to new ways and approaches for thinking creatively and solving problems. Minimally pacing it over several days is recommended although some participants completed it over a weekend as they wanted to get going on tackling their urgent problems.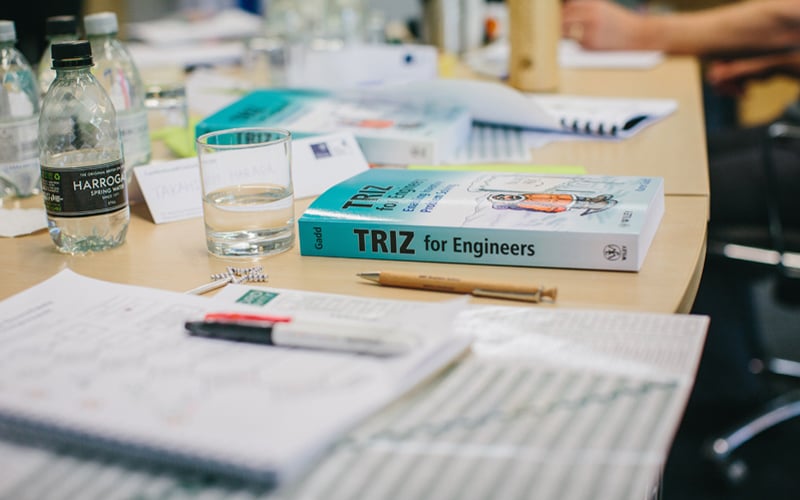 Feedback from participants has indicated that the whole course takes between 6 and 10 hours and they recommend learning no more than one module each day – and watching modules more than once for revision and seeing how it all fits together. Oxford TRIZ Fundamentals eLearning expires after one year, although it can be renewed for a small fee, so you will be able to come back to each lesson multiple times.
What will I learn?
As the name suggests Oxford TRIZ Fundamentals is a fast-track introduction to the most essential of TRIZ tools and techniques. This course is made up of six modules:
1. Getting Started with TRIZ
Learn key TRIZ techniques for keeping detail in its place with the Prism of TRIZ together with conceptual thinking – helps us adopt an appropriately simple /understanding 'at a glance' approach for clear understanding. Measure/assess the good and bad of any system or process with Ideality. Adopt a positive and sharing problem solving culture with the Oxford TRIZ 'Bad Solutions Park'.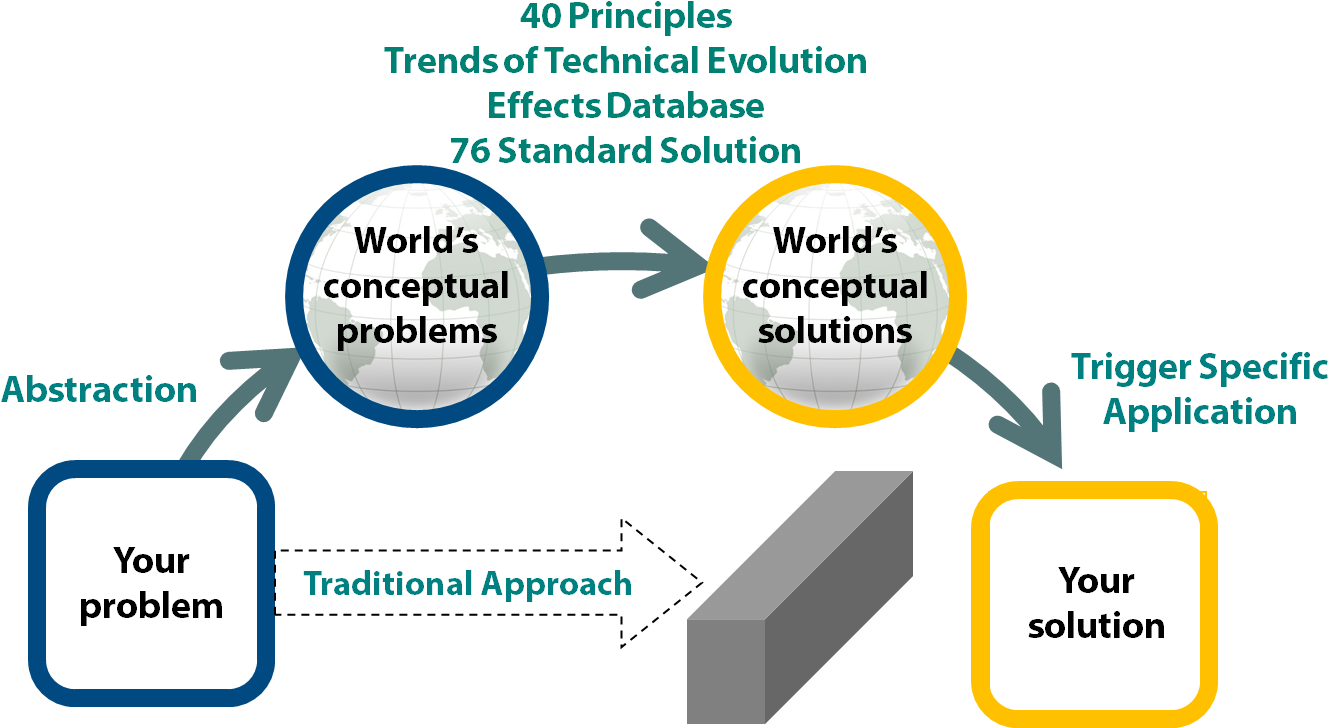 2. The Logic of Problem Solving
Matching solutions to needs is the purpose of problem solving – learn how to scope everyone's NEEDS and match them to the right system.
Step through the simple steps from the Ideal to benefits, to functions and resources which enables us to locate all the strongest, most sustainable, and cost-effective solutions to every problem.
3. Resolving Contradictions
Become familiar with all the ways humankind knows to resolve conflicts - the 40 inventive principles, and how to access key answers with the Contradiction Matrix and the Separation Principles. Solving contradictions helps us to avoid compromises and get everything we want.
4. Time and Scale in 9 Boxes
Master the unique 'think like a genius' TRIZ tool of Thinking in Time and Scale in 9 boxes to understand how to stretch your understanding of any situation and its context. Apply it to invention, resource mobilisation, mapping all possible solution and revealing contradictions.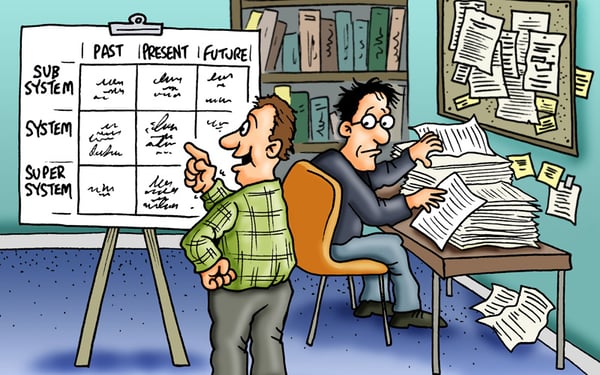 5. Future products with the TRIZ Trends
Learn to predict the future trajectory of next generation products and systems using the 8 Trends of Technical Evolution This is a standalone part of the TRIZ toolkit which can be learned in less than an hour and then used for ever.
6. TRIZ Creativity Tools
Find out how to use the TRIZ creative thinking tools for idea generation and seeing problems and solutions from different perspectives: Learn the simple, powerful, and fast thinking tools which include Smart Little People and Size, Time, Cost.
By completing these modules, you will have the basics of TRIZ, and you will be able to transform the way you solve problems.
How much does it cost?
The eLearning course is £500 plus VAT, don't miss our introductory offer of £450 plus VAT if you buy before 12th April.
We also offer a combined price of £850.00 plus VAT for Live learning and eLearning saving £150.