In celebration of International Women's Day, we have been interviewing some of the amazing female participants who have come on our courses in the past. Read the final installment below.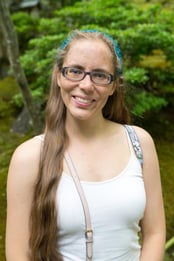 Name: Harriet Windebank
Job title: Senior electrical engineer
Company: Costain
Industry: Oil and Gas

What are your main responsibilities in your current role?
Delivering electrical engineering scope for oil and gas projects in the UK

What would you say are your biggest professional challenges in your role/industry?
Transitioning to zero carbon delivery of affordable energy, quickly and economically

Which TRIZ course did you study?
Advanced TRIZ and Facilitating TRIZ

What attracted you to the course in the first place?
I was looking for methods of solving complex problems in a creative yet systematic manner

Was there a particular part of the course that you found most enjoyable?
I particularly enjoyed learning to use TRIZ tools with a diverse and engaging group and helping each other to learn and develop
Do you have any examples of where you have used TRIZ personally or professionally since completing the course?
I was tasked with showcasing how TRIZ could be used to improve delivery to senior managers as part of a work shop event. However I was given the after lunch slot of only a few minutes, which I thought was not enough time to do TRIZ justice! So I used TRIZ tools that I learnt: Thinking in Time and Space and Prior Action to uncover and use hidden resources - I prepared a collaborative exercise to allow the delegates to use TRIZ on real business problems. I used the time I was allocated to introduce the exercise and used the previously hidden resource of the time spent in the bar after dinner to run the exercise. The more relaxed atmosphere definitely helped creative thinking and the group came up with some really insightful ideas!
Do you have any advice for anyone considering studying TRIZ?
Start using TRIZ tools as soon as you can (I started on the train on the way home after the training course!)