Benefits from efficient time investment
Over just 5 days become more confident in your problem-solving abilities with systematic Oxford TRIZ processes and tools
Five one-hour Live Learning Lectures followed by 'homework' of the set assignment to be completed before joining the small-group tutorials for in-depth discussion of how to tackle problems and find the best solutions.
Build your TRIZ memory muscle to find the best possible solutions efficiently and fast
Become part of the Oxford TRIZ community and discussion forum when you register.
What makes the training effective?
Developed over 25 years of working with top management, busy scientists, hard pressed engineers ensured Oxford TRIZ Academy training is time efficient and effective.

Efficient and fast - follow three steps each day:


Fast paced, cartoon rich, engaging lecture

Individual work of tackling the set TRIZ tasks (approx. 30 minutes in own time)

Small-group workshops with expert Oxford TRIZ facilitation
Unique case studies, exercises designed during 20 years of TRIZ teaching to reinforce learning of the TRIZ tools, processes and problem-solving skills and adapted for online use

Access to the five Live Learning Lecture webinar recordings to reinforce your learning. This also helps delegates who may have missed all or part of the lecture through urgent, unexpected work issues
Qualification
Delegates for the 5-day Advanced Innovative Problem Solving course must be TRIZ Aware. If you are not TRIZ Aware you can complete our Fundamental Problem Solving online course or Technical TRIZ in-person course.
On completion of the full 12-hour training, you will receive our certificate attaining TRIZ Tyro level and 15 hours CPD.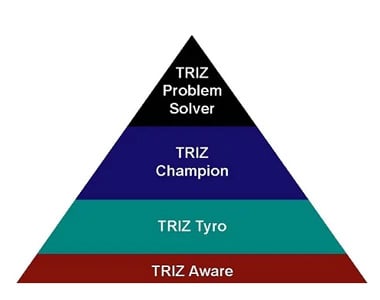 Agenda
Day 1 – Clever, cost effective and elegant solutions – remove the bad and keep the good
Advanced Innovative Problem Solving kicks off with the simple rules for combining the relevant Oxford TRIZ tools for defining and then solving challenges. Ensure we can systematically remodel any 'problem mess' to reveal a comprehensive but simple problem list which is easily prioritised and can be solved one at a time. All our problem solving begins with TRIZ TRIMMING which guides us, step by step, to systematically remove anything harmful, superfluous, excessive, and/or expensive. Good TRIMMING also ensures when logically taking out problems, that nothing good is inadvertently lost by following the 6 Trimming rules. Good and Bad Trimming examples are included.
Day 2 – Stepping through the Oxford TRIZ Problem solving (Treasure) map – dealing with unexpected and predictable hazards.
Learn how to apply ALL the different TRIZ tools to a real problem – and discover the alternate TRIZ routes that take us to the same strong solutions. Day Two begins by exploring the main highway of TRIZ problem solving, as well as the principal alternative routes, and focuses on how to identify and mobilise available resources for sustainable, strong solutions. Different combinations of all the Oxford TRIZ toolkit are applied to deal with difficult situations and solve an urgent challenge.
Day 3 – Critical Ideality Thinking – choosing & developing the best products & processes.
Follow the four strategies for improving Ideality which is the clear purpose of all TRIZ problem-solving. Understanding how to maximise the right outputs by delivering all the right benefits, while simultaneously intelligently minimising inputs/costs, and dealing with unnecessary, harmful outputs. What S-Curves reveal to us about Ideality development over time, and their guidance on the right strategic directions. Understanding the significance of choosing the different systems for different needs.
Day 4 – Achieving TRIZ effectiveness & What TRIZ adds to other Toolkits.
How to be fast and efficient with OXFORD TRIZ and apply the most appropriate and best tools to a range of different challenges. Anticipating and preventing hazardous situations. Applying the pragmatic TRIZ ways of locating problem causes (both linked and unconnected) and how TRIZ adds rigour to all other RCA toolkits. Explore the best TRIZ ways of solving the revealed problems. Managing our resources, (including time and money) to achieve the strongest answers to even our toughest challenges. Prioritising and making the most of our important problem-solving sessions.
Day 5 –End to end Oxford TRIZ problem-solving – step-by-step processes to develop the strongest solutions (including inventing new ones)
Pragmatic and logical approaches to dealing with real, tough, problems especially when any good solutions seem elusive. How Oxford TRIZ reveals all relevant knowledge of difficult challenges to help teams 'know what they know' and recognise the best solution strategies. Routes to capturing the many possible solutions and then down-selecting and choosing which ones to take forward with the Oxford TRIZ Ideality Plot.
Who should book?
Everyone with tough challenges to resolve, including top management, technical teams, engineers, R&D professionals, entrepreneurs, designers and sustainability professionals.
Anyone who has completed the Fundamental Problem Course or our face-to-face Oxford TRIZ technical/basic training and needs to become faster and more confident at applying the tools and processes to their problems.
Those who need to accelerate problem solving and streamline the innovation processes
Inventors, engineers, scientists and patent professionals – this gives some practice to the TRIZ tools for extending and protecting intellectual property (covered in much more detail in our ONLINE TRIZ FOR IP & PATENTS)
Course Materials
Key TRIZ materials - Contradictions Matrix, TRIZ 40 Principles (both for technical and business problems), the 8 Trends of Evolution - provided as digital copies
Not essential but will complement your learning - 'TRIZ for Engineers: Enabling Inventive Problem Solving' by Karen Gadd and/or 'TRIZ For Dummies' by Lilly Haines-Gadd, visit our books page to purchase a copy