What benefits does this course deliver?
A stimulating introduction for technical and engineering specialists to all the TRIZ tools and the Oxford TRIZ processes for problem solving
Learn how to use traditional creativity tools to stimulate idea generation
Finish by learning to apply the more powerful TRIZ approaches for maximising concept generation and creating innovative solutions to any problem
Take home problem-solving skills and tools to help solve tough problems in your workplace
Course Materials
Printed versions of our unique OxfordTRIZ materials - Guide to Standard Solutions, Guide to Solving Contradictions, Contradictions Matrix, TRIZ 40 Principles (both for technical and business problems), the 8 Trends of Evolution
A complimentary copy of 'TRIZ for Engineers: Enabling Inventive Problem Solving' by Karen Gadd (RRP £48.55)
What makes the course effective?
Oxford Creativity's courses are delivered by two TRIZ experts in open, interactive workshops for groups of up to 12 delegates
These use unique collaborative, hands-on exercises specifically designed during 20 years of TRIZ teaching to reinforce learning of the TRIZ tools, processes and problem solving skills
This workshop delivers our signature 3-day Technical TRIZ course. You can choose to add our 2-day Advanced TRIZ course consecutively, or complete the Advanced course at a later date
Benefiting from the full 'Oxford Creativity Learning Experience'
Qualification
On completion of this training, you will receive our certificate attaining TRIZ Tyro level and 21 hours CPD.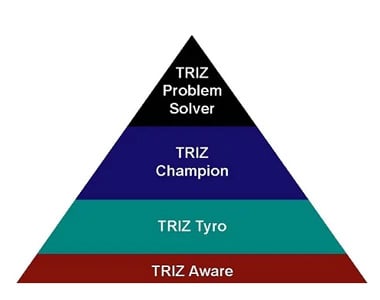 This course can be taken in conjunction with our Advanced TRIZ course to create our 5-day Full TRIZ and Problem Solving Toolkit, after completing this course you will become a TRIZ Champion.
Who should book?
Engineers, R&D professionals, product designers, and managers involved in product development or complex problem solving
All from companies that want to accelerate problem solving and streamline the innovation process
What next?
Following successful completion of Technical TRIZ, look at:
or alternatively, you could choose to combine booking Technical TRIZ (3 days) with Advanced TRIZ (2 days) as one combined 5-day training course, it's more cost-effective and your learning curve will be quicker and more efficient: