What benefits does this training deliver?
Get up and running in 10-hours; learn how to use all the fast Oxford TRIZ tools and build these tools and processes to into the systematic Oxford TRIZ problem solving process with no prior experience of TRIZ needed
Live online learning lectures followed by a break to complete a set task then a small-group workshop for in-depth discussion of the task and ideas
Learn how to improve your problem solving outcomes by following simple, logical steps to find the best possible solutions

Supplement and further your understanding with eLearning and continue your standalone learning with logical extensions,

additions and new examples

Join our Oxford TRIZ community, access our members site and discussion forum when you register
What makes the training effective?
Read our interviews with two of our first attendees Rosemary Chude-Sokei and Faith to learn more.
Qualification
On completion of the full 10 hour training, you will receive our certificate attaining TRIZ Aware level and 10 hours CPD.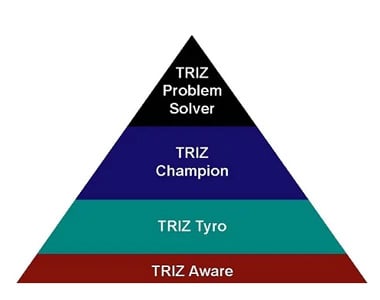 Agenda
Day 1 - The logic of problem solving + genius thinking habits
Fundamental problem solving basics and tools including the Prism of TRIZ, Ideal, Resource mobilisation. TRIZ aims to ensure that we can create and improve systems and processes to meet all needs – as exactly, economically and sustainably as possible. Learn the basic TRIZ tools for understanding and cleverly solving problems fast, and the TRIZ habits for clarity and simplicity by keeping detail in its place.
Adopt the habits of genius thinkers and clear thinking with Time & Scale in 9 Boxes. Learn how to stretch your understanding of any situation by understanding its past, present and future while simultaneously capturing everything significant from the details to the big picture. Time & Scale in 9 Boxes helps you map, understand and communicate any problem, system or situation!
Day 2 - Solve contradictions and get everything you want
Have you ever had an impossible problem where every attempt to solve it only made things worse? If so, you were probably wrestling with contradictions! In this session you'll discover powerful techniques to avoid unsatisfactory compromises and get everything you want using the 40 Inventive Principles, The Contradiction Matrix and the Separation Principles. Learn to uncover conflicting requirements in any situation and systematically resolve anything bad that occurs.
Day 3 - See the future with TRIZ Trends
You don't need a crystal ball to see the future! TRIZ research uncovered that all products, processes and technical systems evolve in highly predictable ways to meet needs better over time. In this session you'll learn simple techniques to predict the future trajectory of your own systems, strengthen your IP and generate ideas for next generation products. The 8 Trends of Technical Evolution take the guesswork out of invention and help you use your expert knowledge extremely efficiently!
Day 4 - The logic of problem solving
Creative people (ie all of us) love solving problems! The trouble is, we seem to be hard-wired to fall in love with our own 'genius' solutions! TRIZ shows us there are always many good ways to solve a problem, and by following simple, logical steps, we broaden our options and find the best possible solutions. In this lesson you'll learn about The Ideal and how understanding benefits, functions and resources can drastically improve problem-solving outcomes
Day 5 - Simple, elegant systems with Oxford TRIZ
Einstein famously said that we should make everything as simple as possible, but no simpler. In this session we'll introduce you to a powerful combination of tools for developing simple, elegant systems. Discover Oxford TRIZ Function Mapping - a step-by-step technique for visualising any system and highlighting problem areas at a glance. Then learn how to apply the Oxford TRIZ Trimming Rules and the 76 Standard Solutions to eliminate harms in your system and increase benefits through radical simplification and clever use of resources.
Who should book?
Anyone with a problem they haven't satisfactorily resolved
Product designers, engineers, R&D professionals and managers involved in product development or complex problem solving
Anyone from companies that want to accelerate problem solving and streamline the innovation process

Inventors, engineers, scientists and patent professionals - the training provides tools with which to derive greater value from intellectual property
Course Materials
Key TRIZ materials - Contradictions Matrix, TRIZ 40 Principles (both for technical and business problems), the 8 Trends of Evolution - we will provide with you digital copies
Not essential but will complement your learning - 'TRIZ for Engineers: Enabling Inventive Problem Solving' by Karen Gadd and/or 'TRIZ For Dummies' by Lilly Haines-Gadd, visit our books page to purchase a copy