What benefits does this course deliver?
What makes the course effective?
Oxford Creativity's courses are delivered by TRIZ experts with over 10 years experience in systematic innovation and problem solving
Oxford Creativity's TRIZ Academy training is made up of a combination of online learning lectures, TRIZ tasks and small-group workshops developed specifically to be delivered online.
This training has been specially developed to be taught online. This format provides a highly stimulating, immersive and enjoyable learning experience.
Access to the webinar recordings for 28 days after the event so you can continue to refer to what you have learnt

Qualification
Delegates for the 5-day Patent & IP Development course must be TRIZ Aware.
If you are not TRIZ Aware then we offer a special price of £1,500 for our Fundamental Problem Solving and Patent & IP Development public training courses when bought together please contact us to book both courses.
On completion of this 5-day Patent TRIZ training, you will receive our certificate attaining TRIZ Tyro level and 10 hours CPD.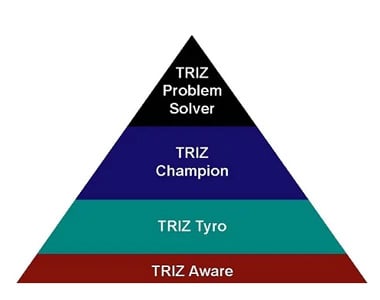 What you will learn
Day 1: Invention context - how to generate and broaden IP with TRIZ tools
Ever wondered how top inventors come up with their ideas? Learn how to mimic the habits of genius thinkers:
Map the context of any invention or system using Time and Scale in 9 boxes.
Learn to use the Ideal Outcome to understand all the benefits of an invention (yours and your competitors') and uncover new possibilities
Explore the three logical ways to invent by matching NEEDS to SYSTEMS.
Simplify complex ideas using Idea/concept and the Prism for Patents
Save time and effort by accessing existing ideas through the Oxford TRIZ Effects Database.
Tools covered: Time and Scale, Ideal Outcome, Idea/concept, Effects Database, Prism for Patents, IP Roadmap, Ideal for products and patents
Day 2: Map claims, map inventions - protect and extend your IP with Function Mapping
Fundamental to strengthening IP with Oxford TRIZ is the ability to work with functions:
Define any system in terms of clear, functional relationships for at-a-glance understanding
Map patent claims then apply the Trimming Rules for rapid patent circumvention
Map inventions (yours and your competitors') to reveal all problems and insufficiencies and systematically deal with them
Develop next-generation systems and products through radical simplification (removing components while keeping all their useful functions and the benefits they deliver)
Tools covered: SaO, X-Factor, Function mapping for claims and inventions, Trimming Rules
Day 3: Next generation and beyond - futureproofing your IP with the TRIZ Trends
The unique Oxford TRIZ 8 Trends of Evolution is a standalone part of the toolkit and can be mastered in about an hour and applied immediately to develop IP approaches.
Predict the likely development of your own inventions and those of your competitors
Protect your patent territory now and in the future
Reveal routes to Leapfrog your competitors' technologies
Take the guesswork out of inventing! Systematically map he trajectory of future technologies
Tools covered: Trends for IP, Ideality
Day 4: Design around patents with the 40 Principles - use Contradictions and the Prism for Patents to generate new patentable ideas
A core advantage of Oxford TRIZ is the ability to develop clear logical thinking:
Access and apply all patent knowledge to improve your patents using 40 TRIZ ways of resolving contradictions
Overcome limited thinking and find inventive, resourceful ways to resolve conflicting requirements
Learn clever, resourceful inventing techniques using the Prism for Patents
Tools covered: 40 Inventive Principles, Physical Contradictions/Separation Principles, Prism for Patents
Day 5: Strong IP step by step - systematic routes to protect and extend your IP territory and design around competitors' patents
Walk through our unique IP roadmaps with our Oxford TRIZ experts.
Step-by-step processes for inventing and strengthening IP
Simple routes for invention working with existing systems or a blank sheet of paper
Tactics to protect and strengthen your own IP and circumvent/leapfrog your competitors' patents
Systematic approaches to develop next-generation products and improve systems and protect your IP
Who should book?
Product designers, engineers, R&D professionals and managers involved in product development or complex problem solving
IP managers and those responsible for IP protection and due diligence
Anyone with a problem they haven't satisfactorily resolved
Course Materials
Key TRIZ materials - Contradictions Matrix, TRIZ 40 Principles (both for technical and business problems), the 8 Trends of Evolution - we will provide with you digital copies
An editable workbook with all the exercises
Not essential but will complement your learning - 'TRIZ for Engineers: Enabling Inventive Problem Solving' by Karen Gadd and/or 'TRIZ For Dummies' by Lilly Haines-Gadd, visit our books page to purchase a copy