Oxford TRIZ Live - Advanced Technical Problem Solving
Advanced Technical Problem Solving is an Oxford Creativity TRIZ Academy online public training course which has been developed specially for online learning. It is delivered over 5 days using:
Lectures and workshops - an hour long learning lecture every morning with an assignment to complete given at the end, a break for lunch and to complete the task, followed by an hour long small-group workshop in the afternoon to discuss the task in-depth
What benefits does this course deliver?
For those who want to be capable and self sufficient in Oxford TRIZ this step-by-step workshop takes delegates from selecting/defining the right/real problems, plotting the best directions forward and locating the strongest solutions.
We show you how to cover a wide range of different problems with the option of delegates tackling their own (non confidential) problems
Join our Oxford TRIZ community, access our members site and discussion forum when you register
Live online learning lectures followed by a break to complete a set task then a small-group workshop for in-depth discussion of the task and ideas
What makes the course effective?
Unique collaborative, hands-on exercises specifically designed during 20 years of TRIZ teaching to re-inforce learning of the TRIZ tools, processes and problem solving skills.
Learning whilst enjoying the full 'Oxford Creativity Learning Experience'
Oxford Creativity's TRIZ Academy training is made up of a combination of online learning lectures, TRIZ tasks and small-group workshops developed specifically to be delivered online
This training has been specially developed for online teaching, ensuring it provides a highly stimulating, immersive and enjoyable learning experience
Oxford Creativity's courses are delivered by TRIZ experts with over 10 years experience in systematic innovation and problem solving
Access to the webinar recordings for 28 days after the event so you can continue to refer to what you have learnt
Qualification
On completion of this training, you will receive our certificate attaining TRIZ Tyro level and 10 hours CPD.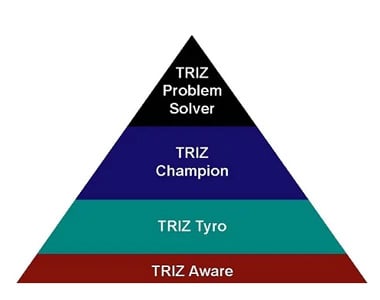 Who should book?
TRIZ Aware users - this workshop course is a follow-on from the Full TRIZ Toolkit (5 days - Technical + Advanced TRIZ ), Technical TRIZ (3 days) or the Fundamental Problem Solving online training
Those who want to learn how to tackle tough challenges in 3 days
Course Materials
Key TRIZ materials - Contradictions Matrix, TRIZ 40 Principles (both for technical and business problems), the 8 Trends of Evolution - we will provide digital copies