Due to the COVID -19 pandemic we are not holding any in-person courses until July 2021. We are currently offering online training if you would like to start now.
What benefits does this course deliver?
All the course content of our Technical TRIZ and Advanced TRIZ courses taught continuously in a time-saving and cost-efficient way
Get up and running in 5-days; learning how to use all the fast Oxford TRIZ tools and build these tools and processes to into the systematic Oxford TRIZ problem solving process
Learn how to facilitate creative thinking in other people using knowledge sharing of the TRIZ tools
A £500 saving (on Technical + Advanced training prices) when booking the
5-day Full TRIZ and Problem Solving toolkit course.
Course Materials
Printed versions of the key TRIZ materials - Contradictions Matrix, TRIZ 40 Principles (both for technical and business problems), the 8 Trends of Evolution
A complimentary copy of 'TRIZ for Engineers: Enabling Inventive Problem Solving' by Karen Gadd (RRP £48.55)
What makes the course effective?
Oxford Creativity's courses are delivered by two TRIZ experts in open, interactive workshops for groups of up to 12 delegates.
These use unique collaborative, hands-on exercises specifically designed during 20 years of TRIZ teaching to re-inforce learning of the TRIZ tools, processes and problem solving skills.
This workshop includes full content of the 3-day Technical TRIZ course and the 2-day Advanced TRIZ course in 5 consecutive days – Monday to Friday. This format provides a highly stimulating, immersive and enjoyable learning experience.
Benefiting from the full 'Oxford Creativity Learning Experience'.
Qualification
On completion of this training, you will receive our certificate attaining TRIZ Champion level and 35 hours CPD.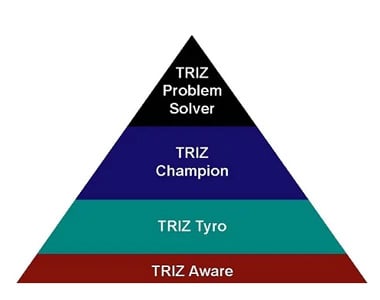 Who should book?
Product designers, engineers, R&D professionals and managers involved in product development or complex problem solving
All from companies that want to accelerate problem solving and streamline the innovation process
Anyone with a problem they haven't satisfactorily resolved
All who benefit from immersive learning over a full week