Live webinar topic:
Introduction to TRIZ
This free webinar continues on from where our 'Tell me about TRIZ' video ends...
Karen Gadd will give you more detail about the tools and processes of this powerful toolkit. And also explain all the benefits of learning TRIZ and how to use it for problem solving and stimulating creativity & innovation.
It's a fast-paced and lively introduction with lots of interaction and opportunity for Q&A.
Click the image below to see the 3-minute short explainer video: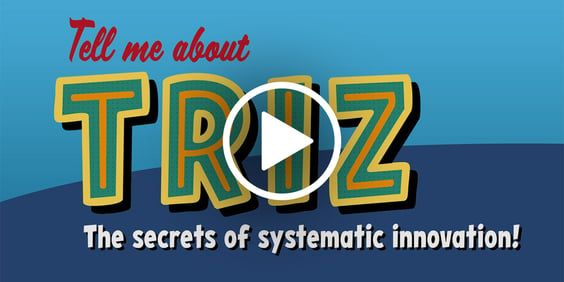 What does this webinar deliver?
A 30/40 minute introduction to the TRIZ tools and Processes. TRIZ = systematic ways for defining and understanding problems and then using the lists below to solve them
* 40 Inventive Principles
* 8 Trends of Technical Evolution
* 76 Standard Solutions
Concise information about why TRIZ provides systematic & structured innovation
Plenty of time for Q & A about your own TRIZ learning journey
Who should attend?
Anyone who's heard about TRIZ...but nor sure what it is or how it works
Those familiar with some aspects of TRIZ but want to know more detail about the tools and processes and how to use them
All who are trying to learn TRIZ online or from books - and feeling that there may be a more effective way...