What benefits does this course deliver?
Learn an overview of: the TRIZ tools, the TRIZ problem solving process, and the fundamentals of creative problem solving and innovative thinking.
Learn and use the TRIZ tools for developing systems and intellectual property protection (the TRIZ Trends of Technical Evolution) and for understanding and mapping problems and solutions (9 boxes).
Ability to systematically create novel concepts to make strong patents
How to generate more ideas to broaden patents, protecting your products' future development
Learn to identify new invention opportunities
How to Ring-fence patents (your own or your competitors!)
Leapfrog existing patents to develop the next generation
Circumvention of your competitors' patents to get freedom to operate (without involving lawyers)
How to quickly read and understand patents
3-for-2 offer
Book 3 places and only pay for 2! This offer is available when you book 3 places for the 'Developing Products & Patents with TRIZ' course on 17th-19th September 2019*.
*before 31 August 2019

Click below to read more about the two other Patent TRIZ training courses included in this offer:
Course Materials
Printed versions of the key TRIZ materials - Contradictions Matrix, TRIZ 40 Principles (both for technical and business problems), the 8 Trends of Evolution
A complimentary copy of 'TRIZ for Engineers: Enabling Inventive Problem Solving' by Karen Gadd (RRP £48.55)
What makes the course effective?
Oxford Creativity's courses are delivered by two TRIZ experts in open, interactive workshops for groups of up to 12 delegates.
These use unique collaborative, hands-on exercises specifically designed over 20 years to re-inforce learning of the TRIZ tools and problem solving skills.
This workshop includes full content of the one-day Fast Track Introduction to TRIZ and the 2-day Patent Development with TRIZ course in 3 consecutive days – Monday to Wednesday. This format provides a highly stimulating, immersive and enjoyable learning experience.
Benefiting from the full 'Oxford Creativity Learning Experience - click link panel on left
Qualification
On completion of this training, you will receive our certificate attaining TRIZ Champion level and 21 hours CPD.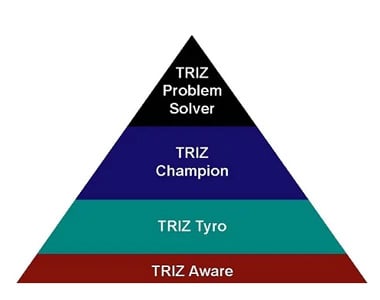 Who should book?
Product designers, engineers, R&D professionals and managers involved in product development or complex problem solving
IP managers and those responsible for IP protection and due diligence
Those responsible for delivering Continuous Improvement, who are looking for a structured approach to developing improvement ideas