Live webinar topic:
TRIZ for Problem Solvers & Support teams
Oxford TRIZ shows clever people how to solve tough problems fast
'TRIZ for Problem Solvers & Support teams' offers practical tools and new approaches that work on any kind of problem including: management problems, personal development, marketing, continuous improvement, science, project planning, healthcare, social care...and more...
Oxford Creativity is home of the TRIZ for Dummies™ handbook, and our innovative re-focusing of TRIZ away from technical to organisational and people issues will help you identify quickly and correctly where you want to get to, so you see new routes forward.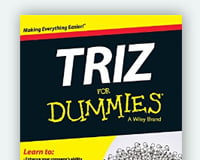 What does this webinar deliver?
A brief introduction to the TRIZ tools and Processes.
A 30-minute summary of how & why problem solvers & support teams can gain benefits from learning and using Oxford TRIZ tools - and hit the ground running
We explain how the power, clarity & logic of Oxford TRIZ thinking tools can help everyone facing challenging situations in different sectors
Who should attend?
Anyone who believes that that learning TRIZ tools and how to implement them takes too long
All who want to hit the ground running in problem solving for all challenging situations - as individuals and for your organisation

Each topic webinar runs for a total duration of 30-45 minutes.

Before attending the webinar, we advise viewing our Welcome to TRIZ video to give you a quick overview of TRIZ and the TRIZ tools and processes for innovative problem solving.
You will also be given the opportunity to watch Welcome to TRIZ again once you register for the webinar by completing the form below: